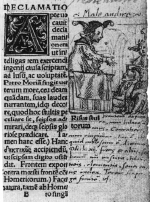 Erasmus' Traces
Episode 3: England
War is sweet to those who have no experience of it
Dulce bellum inexpertis
The third episode is set mostly in England where Erasmus spent about seven years in all, in the period between 1499 and 1517. Seven times he crossed the North Sea by boat to go from the European mainland to England, although he was anything but fond of the sea.
England was to Erasmus the country where he discovered a new kind of friendship. He was pleasantly surprised to find humour, erudition, intellectual debate, combined with a warm, genial atmosphere with people like Thomas More and John Colet, with whom he developed an intense friendship. He arrived in England as a man of letters, but was fascinated by impassioned theological debates that were to be directional in his work. The atmosphere of intellectual freedom meant that he felt extraordinarily at home in England, although he always found something to complain about as well. In England he wrote the book that was to provide him with eternal fame, the satirical The Praise of Folly, dedicated to Thomas More (the Latin title Encomium Moriae is a play of word on More's name). He had conceived the idea for it on the trip from Italy to England in 1509.
These intellectual aspirations and the friendship he encountered in England were in sharp contrast with Erasmus' experience of war, of which he experienced the material consequences in person. Because in 1513 Henry VIII decided to support his claims to the French throne with military force. This moved Erasmus to leave England. His horror of war, of which he had seen dreadful manifestations in Italy, found more detailed expression in various publications.
The most relevant works by Erasmus on war are: various Adagia, such as Dulce bellum inexpertis (war is sweet to those who have no experience of it) and Scarabeus aquilam querit (the dung beetle hunting the eagle). Probably the most widely read anti-war pamphlet on earth is the Lament of Peace. There is also the satire Julius Exclusus, in which Pope Julius II is turned away at the gate of heaven by St Peter on the grounds of his warring spirit, although Erasmus always refused to confirm that he was the author. And finally Consultatio de bello turcico, on the subject of whether war should be waged on the Turks.
Apart from dealing with the themes of war and friendship this episode also discusses Erasmus' humour and satire, of which The Praise of Folly is such a wonderful example.
Erasmus' ideas about war are discussed during a dinner in The Old Hall *) in Queens' College, Cambridge where a company of Erasmus scholars and people otherwise interested exchange opinions, particularly about his fervent opposition to war, and the question if there is such a thing as a just war. Erasmus lived and worked for a long time at Queens' College, where he taught, among other subjects, Greek and theology.
*) The Old Hall of Queens' College, Cambridge is one of the few places of which we know that Erasmus ate there frequently. A large portrait of Erasmus hangs on the wall, and the hall itself is beautifully restored. Nowadays dinners are sometimes organised to supplement the scant means of Queens' College. Even during his first visit to England Erasmus was present at several banquets, also at Oxford, whose purpose was the pleasures of good food, but more especially debates at the highest level. At one of those banquets Erasmus met Colet. Erasmus was sober in his life style, but he did appreciate the quality of what he consumed, which also led him to express criticism frequently. He had distinct preferences. Analogous to his dislike of the sea he also disliked fish and to such an extent that he wished to have dispensation from the ban on eating meat on a Friday. He commented extremely negatively about the food in Cambridge, and even more so about the wine. A good reason to choose this form and this location for an episode about Erasmus' affinity with food and drink.