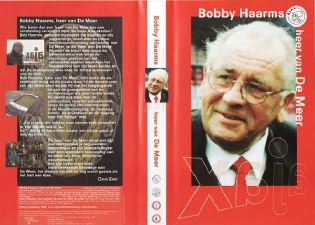 VHS cover design: Henk van Alst
Who better than the 'master' of De Meer can guide us on a tour through the former Ajax stadium?
Bob Haarms, who is that 'master', was born directly across the stadium. His entire life he has somehow been connected with De Meer, as a supporter, football player or coach.
He guides us along the well known, but also along some of the hidden places of this illustrious stadium, for many years the home base of Ajax and breeding ground for the countless successes of the club.
Emotionally and with great pride Bob Haarms 'master' of De Meer, looks back on the history of a place where he spent most of his life and which he knows so well, from entrance gate up to every stalk of grass of the right wing.
He takes us to the catacombs, the storeroom for shoes, to the gallery of internationals next to the changing rooms, the boardroom, the trophy-cabinet and the ramp leading to the 'holy field'.

"...when you enter through those gates, something changes inside of you".

And "...if you have the choice between a gold nugget and an Ajax shirt..."

With his original comments and reflections the 'master' of De Meer adds something very special to the atmosphere of this documentary.

He is our guide in this impressive tribute to De Meer, the stadium that many people still see as the heart of Ajax.

David Endt.